In the course of three months in 2006 puts Eirik Jensen into 67.500 million in cash on their bank account.
It happens in the same period that he according own explanation has over nok 200,000 in expenses in connection with the renovation of the family farm in Fenstad Nes.
Also, these expenses were paid in cash.
According to Gjermund Cappelen is he the source of the cash. He has explained to Spesialenheten for police matters that Jensen has been paid for information about police activities, including whether there was politispaning on hasjpartiene that Cappelen got delivered.
Eirik Jensen denies that he stood on the hasjsmuglerens payroll.
– from Where comes the money from?
In court Wednesday went Spesialenheten for police matters through the parts of the statements they have secured from banks that Jensen has used. These go back ten years in time.
Repeatedly was Jensen asked where the money comes from.
– part of it is from the cash that I had and the other is the advance on the inheritance from my parents, answered Jensen.
All about the trial: Read more about korrupsjonstiltalen.
When the retired politioverbetjenten refers to the "cash in hand" he believes life savings of wads that he has stored at home. He has several times referred to himself as "kremmer".
Already in his youth he earned money by selling smoked eel on Nesodden. He has also told about the dykkeroppdrag where he got paid for in cash, as well as the purchase and sale of the vehicles and advance on the inheritance.
Spesialenheten for police matters believes, however, that the regular deposits shows that Jensen constantly receive new cash.
5. september 2006, put the Jensen into 20.420 Swedish krona. The same date he also 10.000 Norwegian kroner.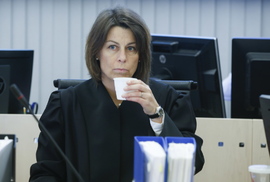 – The 10,000, where they come from, asks Schilling.
– It can be cash. But when you only get a number, and shall connect it to a date and deposit, so it's reasonably complicated. It is easier to ask questions than to answer, " says Jensen to the prosecutor.
– I think I had remembered it if I had had two as big amount in different currency and put it on the same day, " says Schilling.
20. september 2006, put the Jensen into new 6000 million.
– I expect that you don't remember it either, " notes Schilling.
Jensen breathes heavily in vitneboksen, while the prosecutor scroll further in the binder.
14. December then you take out the 57.000 million. You make a car purchase the same day at Økern bilauksjon. I think that the cash is empty, since you take out money from the bank instead of taking it from the cash you have at home, " said Schilling.
– No, it is not correct. I can't give you any explanation for it, but I can't say that what you say now is correct.

– Have cash your been zero at any time since you started to save up for diving in 1973 and until February 2014 when it was 34.000 money again, ask the prosecutor Schilling.
– No, replies Jensen.
– do you Remember the lowest level?
– No, I don't remember.
– Got advance on inheritance
Judge Kim Heger observed also on Jensen's explanation about kontantinnskuddene.
– You have mentioned your mom, she has so much "cash", ask Heger.
– She has at least a withdrawal of 600,000 crowns I have seen in the papers, replies Jensen.
– In this period, ask Heger.
– No, overall. It was charged on the inheritance. I can't say exactly how much money I've gotten from her this year, " says Jensen.
– But there must be some replenishment of cash, says Heger, while he sits with the overview of the contributions in front of him.
He never get a straight answer and is interrupted by defender Arild Holden, who point out that it also will be presented a forbruksanalyse of the economy to Eirik Jensen.
I think the question was pretty simple: I just asked where the money came from. It often comes from salary, so I have heard that it comes from your mother, and from the purchase and sale of cars, " says judge Kim Heger.
Eirik Jensen replies that they will come back to this later.